Denver Burger Battle 2019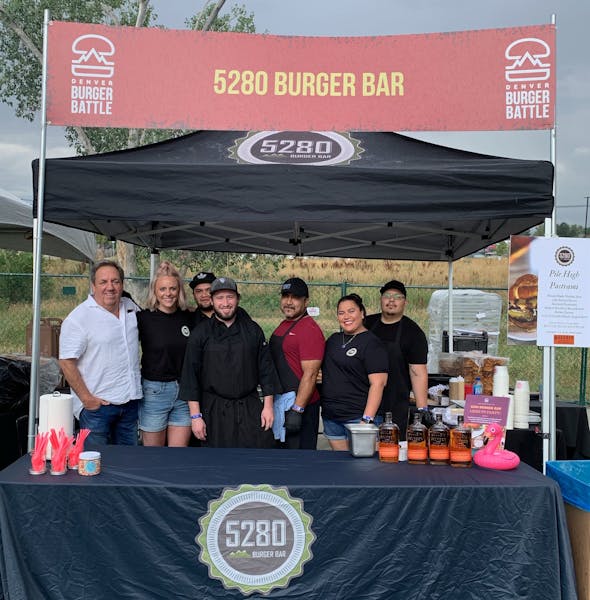 On Thursday August 1, 2019 dozens of Denver's local restaurants came together for the Denver Burger Battle at Stanley Marketplace, including us! The Burger Battle team and Team Player Productions put on one hell of an event this year and we were honored to be included. We were surrounded by established local burger joints like Cherry Cricket and newbies like American Grind as well as beverage sponsors like Bulleit Bourbon and Don Julio Tequila. Nobody left hungry or thirsty.
We were stage-side for this year's battle and served up our Pile High Pastrami Burger and house made Butter Pecan ice cream to the groovy tunes of '80s cover band, The Goonies. We also shook our tush to Denver's all-vinyl DJ Service, Something Vinyl Club. Having won third place last year, we were hoping to stand on the podium this year but, unfortunately, we didn't reach our goal of winning the gold. Although we didn't claim the coveted trophy our team worked their asses off and put out a delicious burger. Check it out here!
We met folks who had never heard of us, fed fans who are loyal visitors of our restaurant locations, and charmed local influencers and residents. This is the Burger Battle's 9th year and we hope to be invited back next year for the 10 year beef brawl in 2020. Thanks to all the burger fanatics who came out and braved the rain and to all the contenders for putting out their best stuff. Extra special thanks to our Regional Executive Chef, Derek Baril, for putting his heart between the buns and to his team for working the grill.
Until next year!
Interested in learning more about 5280 Burger Bar and our local burger news? Follow us on Instagram or our Facebook Pages for Downtown Denver and Westminster.