$10 Lunch, Say What?!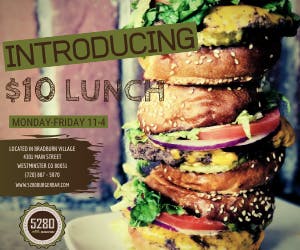 5280 Burger Bar - Westminster now offers a special $10 Lunch Menu Monday - Friday. No more hitting the value meals at the drive-thru down the street. You can pop over for a quick work lunch, friend lunch, family lunch or solo lunch and never have to sacrifice quality. We're serving up the same chef-crafted food you've grown to love for a steal!
Can't leave the office?
Let us cater your next event or treat the whole office to lunch without even leaving the building. With the 5280 Burger Bar Food & Ice Cream Truck, we can bring everything you love about 5280 Burger Bar right to you! We offer a variety of catering services, including: Food Truck Window Service, Indoor Catering, and Pick Up + Drop Off Catering Services. Call the restaurant directly to get the conversation going or inquire here.